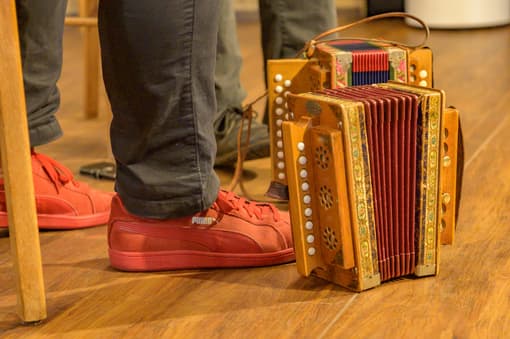 Langnouerli & Co.: Open Stage/Sessions
New Swiss Folk @ «Wäbe­re-Chäu­er» – CH
Every Night: 18:00 – 18:30 / 19:00 – 20:30 / 21:00 – 22:30 / 23:00 – 24:00

Wäbere-Chäuer: Vaulted Cellar of Restaurant Zunft zu Webern, Gerechtigkeitsgasse 68 (Venue Nr. 23)
The Langnouerli performs in the limelight and all around something is brewing in the Wäbere-Chäuer: a gourmet menu for the ears, cooked by many chefs who don't spoil the broth but season the soup exquisitely. Different every evening and all the way through. Play along and/​or listen!
Langnauerörgeli (= Diatonic Accordion), born 1836* in Langnau in the Emmental: Various harp makers/​Harfner and Langnauerörgeli creators have been building the so-called Langnouerli for almost 200 years. The best-known single-row, 2‑chord Härpfli with 3 basses captivates with its manageability and its special sound.
Participation / Terms & Conditions: With festival bracelet only. All musicians are welcome! Play along after consultating with the fix band, the coordinator is Thomas Aeschbacher. After max. 3 tunes, please allow other musicians a chance as well.